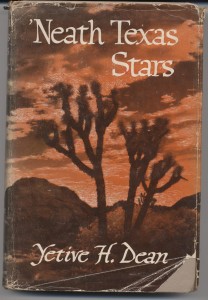 I can remember when I was young and living in that big house upon the hill in Pomona, CA.  My pastor's wife, Naomi Hill had recommended a book to me. It was called 'Neath Texas Stars, a romance type of book, of which I am not a fan of such books, but this was from a true story that had some significance for my life that I didn't even know of.
Many years later, it seems like it was when I was in my 40's, I became nostalgic, and this particular book came back to my memory. For some odd reason, I wanted to read it again, and there was no way I could borrow it from Noami Hill because she had passed away and her family didn't keep the book. By now the book was out of print.

I contacted a book search company from N. Y. and they had it, so I bought it and got to read it again.
No wonder the book had something in it about me! It was about a gal who was an artist and had married a minister! Well, that's me! I am an artist and I happen to be married to a minister!  How romantic is that?  To me it is pretty cool!
Here is a pic of that book that I am so fond of. I had forgotten why I was so intrigued by the book in the first place until I had the opportunity to read it later in life. What a coincidence to find a story that is similar to my own life.
Now, here's the rest of the story… My husband was appointed to pastor a church in San Diego in year 2000.  I was browsing through some things in his church office, and here was this file box of all the former members of the church.  Lo and behold, there was the name Yetive Dean, the author of this book! It turns out, no one attending the church knew her because she had passed away, but how often do you come across such a name as Yetive?  That name really stood out and I screamed, "what a coincidence!"