April 2021 Interview
---
About Dixie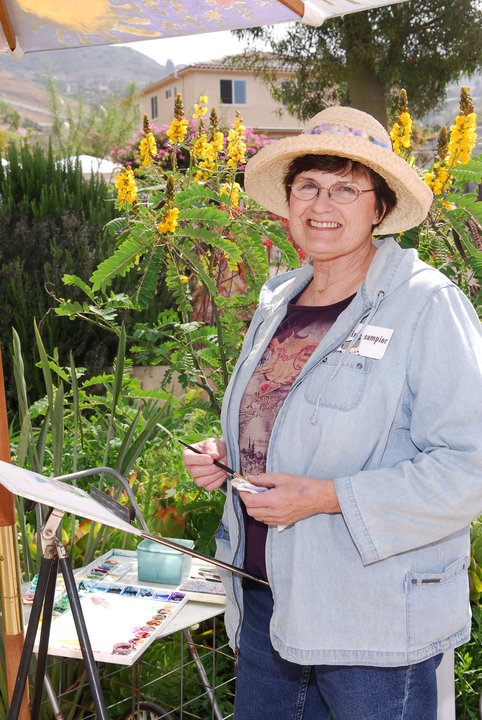 A native Californian, Dixie's artistic career began in the laid-back bayous of Louisiana. Although she had dabbled in art for many years, it was there that Dixie found both the motivation and the time to devote to developing her artistic talents.
Dixie was privileged to study with Dotty Billiu who introduced her to the renowned Henry Hensche. "He was the person who made me aware of color in a seemingly colorless environment," commented Dixie. "He made me see the variety of colors even in the dullest shadow.
Not only did Dixie succeed in seeing the unique beauty of her surroundings, but she excelled in her watercolors and oils. Upon returning to California she continued to cultivate exhibiting. Dixie is devoted to applying the inspiration and the training she gained to express the color and excitement found in San Diego.
Whether Dixie is working in oils or watercolors… whether from a photograph or on location… whichever technique or method she may employ, you will enjoy her refined skill and unique, creative expression.
Dixie is the Artist in Residence at Summers Past Farm in Flinn Springs, CA, and is a member of the Foothills Art Association and the East County Art Association.
Commissions are welcomed.
Photo Credit: Howard Bagley
Publications
A Castle and a Crown by Wendy Morrison (Teen Challenge) features Dixie's painting of T C Castle (RIGHT)
Herbal Vinegars by Sheryl Lozier of Summers Past Farm
When the Moon is Full – Folklore of St. Mary Parish, LA , published by the St. Mary Parish Social Studies Council
Wings of the Wind – the poetry of Diana Wallis Taylor
Land of Sunlight – Contemporary Paintings of San Diego County, James Lightner
Apprentice by Somerset Magazine, published by Stampington pp 22-27 and 128 – 131