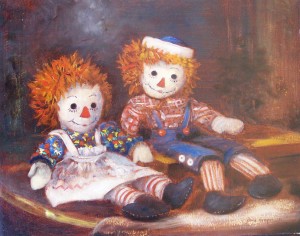 I was given an assignment in art school to do a painting at home using a gessoed board, brown paint and a still-life set-up. I chose the rag dolls, sat them on a wooden box that Grandpa Alec made and got busy getting the rags dolls onto the wet paint applied to the board. It was like a 'wipe-up technique' and easy to do with turpentine and rag or brush. The end result was like a monotone, or like an old sepia tone photo.
The next step was to memorize the colors and make a brief note of what the colors were like. The next week I took the painting to class, and was told to leave the dolls at home, and set up my full color palette to apply the colors over this brown and white image.  It was not easy!  Trying to make the colors look right and relying on my memory and notes, I seemed to just suggest the essence of the particular colors needed to make this painting look right.  I was silently fussing and cussing and not happy with this discipline my teacher gave me to do.  I almost gave up!  But, after it was done, the whole class was very impressed and one of the students wanted to buy it!  Well, no I said, my family would want to see my final result of what I did in class.
An art show came up in town and I entered the painting and lo and behold, I got an honorable mention!  The judge for the show was Judi Betts of Baton Rouge!  Then along came this ad in the art magazine about having your painting made into a limited edition reproduction print.  I sent the painting to have this done.  What an experience that was.  They didn't duplicate my colors very well and I had to kick, scream and holler to get it done accurately as they tried at least 3 times to get me to approve.  That is why the prints are signed and numbered to authenticate the print for my approval. There was an overage of 90 rejects and 30 extra of this edition of 1000 prints.  After the 1030th, there are no more left and won't be anymore.
I still have the original painting and the dolls which my sister-in-law made for my kids many years ago, and now my grandchildren enjoy them. The rag dolls turned out to be such good models, sitting very still for me and I was surprised  I could get their likeness and so this gave me the courage to do portraits and I took a class with Parietta Hester.  I always wanted to do portraits and can accomplish a likeness, but, not one of my favorite things to do.