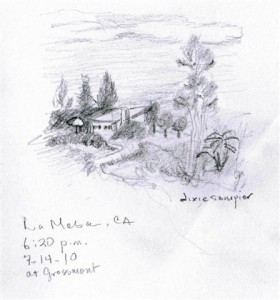 I am recovering from back surgery at this time. It's a slow process and I'm glad to be back home, but of all things, I can't believe what happened to me while I was in the hospital.
I had a nice view from my window while at Grossmont hospital and decided to sketch a simple little house that I could see from my bed. Got the sketch and then the next
day guess what? They pulled the shades down, the kind that keep the heat out because Summer time was on its way! Nothing glamorous about the windows, but at least I knew what they looked like.
I'm glad I got a photo and a sketch of this little residence. With that I can do a painting of it some day. I have a lot of little things like this waiting for me to do some day, in fact, enough to keep me busy for the rest of my life!! Perhaps some of these little ideas will never get done, but it is always a challenge to get something going. And, there are a lot of stories to tell like this one… 'look what happened!' I had no idea that they were going to pull the shades down!  But it happened, the very next day.